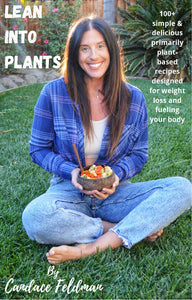 Lean Into Plants eCookbook - By Candace Feldman
Regular price $14.95 Sale
100+ simple & delicious primarily plant-based 
recipes designed for weight loss and fueling your body.
Humans have five basic senses: touch, sight, hearing, smell and taste. The organs associated with each sense, send information to the brain to help us understand and perceive the world around us.  As a plant-based enthusiast, I want to teach you how to savor primarily plant-based foods using all five senses to eat mindfully.  My entire adult life has been a struggle with disordered eating.  I was introduced, by a registered dietitian, to a lifestyle with an emphasis on eating more vegetables.  I couldn't believe how good I felt.  I lost 40 lbs and gained a healthy relationship with food.  I noticed my daily aches, IBS issues, inflammation, and brain fog started to dissipate.
Plants have the power to transform and heal us.  Switching to a primarily plant-based lifestyle has been very empowering and changed my life to the point where I enrolled and graduated from the Institute for Integrative Nutrition.  I've become super passionate about creating quick delicious recipes that are satisfying, while giving the body the plant love it deserves. My mission is to get you eating more wholesome foods by learning how to create mouth-watering, nutritious meals. To be honest, I'm not a fan of spending time in the kitchen cooking.  I wanted to create recipes that were quick and easy to remember.  Most importantly, I want to inspire people to create a healthy relationship with food.  I'm excited to take you alongside my journey and share my favorite recipes that healed my mind, body and soul.